Ok, My friend Sarah tagged me to participate in a meme where I list three items I enjoy more than blogging. Actually she tagged me a week ago, but I'm finally getting around to it--LOL
Number one
, of course, would be spending time with my family, which I guess would be a given. We love spending time outside--the park, beach, camping. We love visiting extended family too. We also love snuggling up and reading stories. Here we were camping up in Idaho (sorry need two pictures cause we didn't get one of the 4 of us).
Number two
--again, no surprise, I love stamping and scrapbooking. Creating handmade things just gives me such a happy feeling. I never thought I was "artistic" until I got into scrapbooking. Now it's such a huge part of my life that I actually start going a little stir crazy if I go a few days without making something (it's a sickness, I know). Here's some fun fall stuff I made last year--LOVE this time of year
Number 3
is a toss up--Reading is definitely wahat I spend a lot of time doing. However, I also love to travel. Of course, in the last few years, the only traveling we've done is to Grandma's House in Idaho--LOL. Here's a layout from a camping trip we took to Otter Creek and Bryce Canyon three years ago--see it still comes back to scrapping :)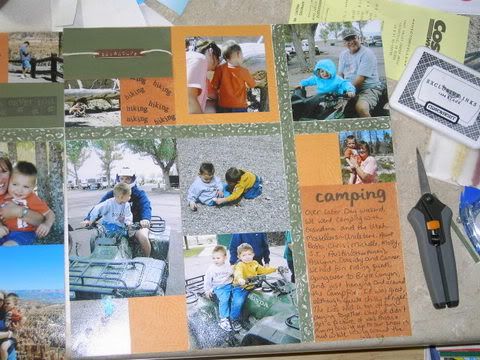 Now here are the rules if you want to play along:
After your intro, copy/paste this line and the rules below it: The originator wants to see how far it goes so please keep his link intact:
http://rileycentral.net//
Encourage people to post with the incentive of a link by including those who have passed it along here:(Your link here and so on . . .)
Visit at least 3 on the list who've written and passed this meme. Leave them a comment.